No matter how excellent your product or service, if you don't use the right words to promote it you won't connect with your target audience. Don't worry… I've got you covered.
How I'll turn your spark of an idea into reality!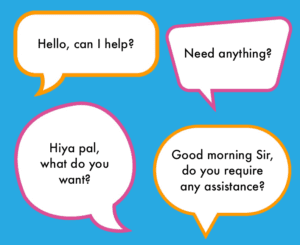 Why is brand voice important?
Consider these four styles of asking someone if they need help, and the vastly different impressions they give…
Your brand voice is your distinct personality which needs to make the right impression with your target audience. When you've identified this personality, you then need to think about the perfect language to use to reveal it.
It's also important that this personality remains consistent across all of your messaging so that you don't confuse people and look unprofessional.
I can help you find your authentic voice and create guidelines so that your messaging always hits the right tone.
Do you want compelling copy in your unique brand voice that ensures your voice is heard?